Seville Tapas and Wine Tour – Compare the Best Tours for 2023
Last updated on September 9, 2023 7:15 am
Add to wishlist
Added to wishlist
Removed from wishlist
0
Add to compare
Seville is known as the cultural heart of Southern Spain. The historical Andalusian region has tons to boast, but nothing quite beats Seville.
This beautiful city is known for its tasty tapas and delicious wines. While Sangria might be the first thing that comes to mind, there is so much more to Spanish wines than this delicious pitcher drink.
Tasting the best tapas in Seville is an absolute must-do while in the area. Along with a Granada day trip, it's one of the very best things to do in Southern Spain. That way you'll experience the sights, tastes, and history of the Andalusian region.
We've listed a variety of different options that are great for couples, groups, and solo travellers. You can choose to make it a day activity or fit it into your evening itinerary. Whatever you decide to do, it'll be a delicious adventure.
Highlights:
Expert tapas and wine pairing
Explore less known areas, local bars and restaurants
Learn more about the history and culture of Seville
Know before you book:
Let your guide know in advance if you have any dietary restrictions
Be over 18 years to enjoy the wine pairings
Wear comfortable shoes

The Spanish way of eating is an experience in itself, and tapas are quintessential Spanish food. They are big on flavour, sharing, and wine pairing. It's a happy social event.
Did you know that Spain is the third top producing wine country in the world? You can easily order wine online from the comfort of your couch. But drinking local wines in little bars and restaurants, expertly paired with gourmet tapas, is something special.
There are a number of different types of Seville tapas and wine tours. You can take a sherry, wine and tapas tour and try a wide variety of delights. Or join a tour that features a traditional flamenco performance. After all, what's better than dinner and a show?
Or if you really want to mix in a little culture and history, a walking tour might be the one for you. You can stop at a few of the best restaurants in Seville, and sight-see as you go from one place to the other.
Best Prices for 2021
The cost of the tickets/tours start at about €69 Euro ($80 USD) to €117 Euro ($136 USD), depending on the length of the tour. And of course, how much wine and tapas are included. So if you have a big appetite or want to make the most of the experience, it might be worth going for one of the more expensive tours. Compare prices across the ticket providers below: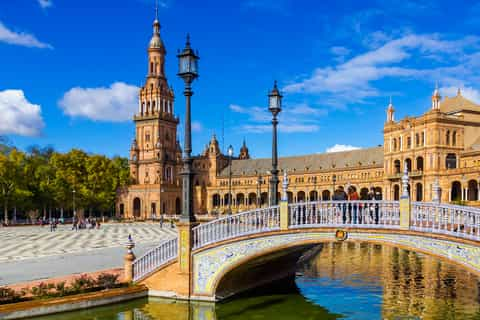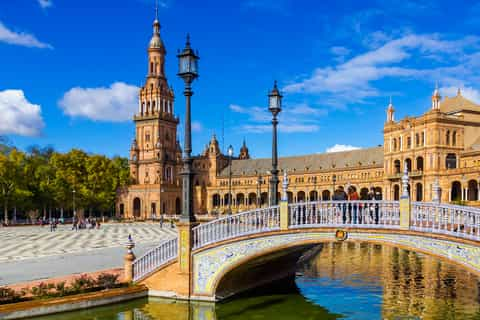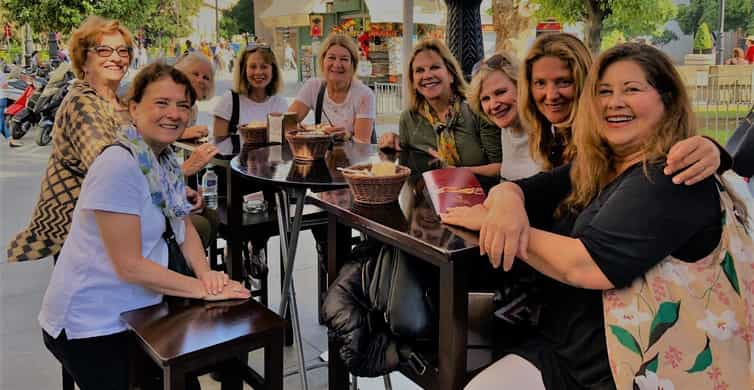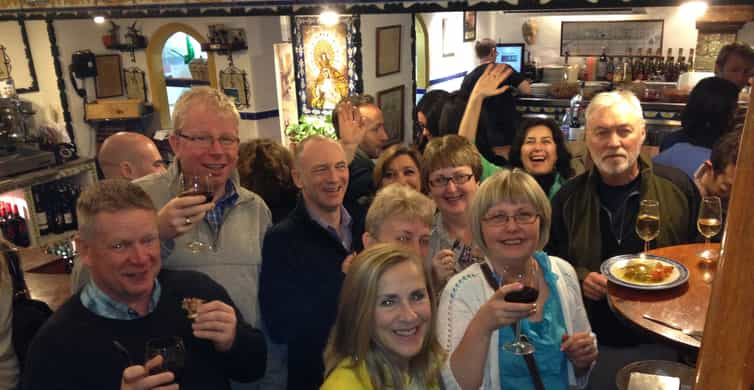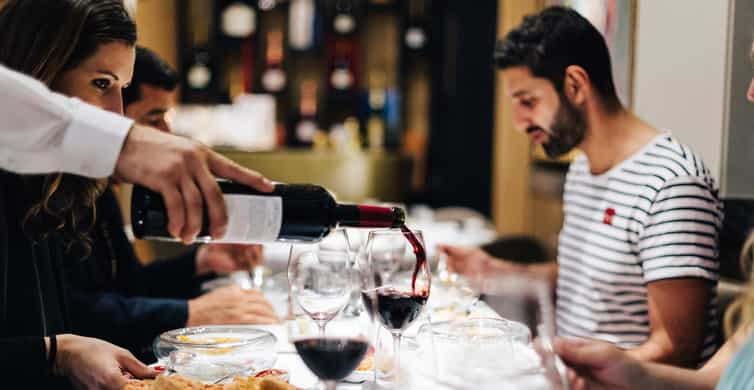 Times of Tours
Food and wine pairings are great from lunchtime, till about 10 pm. Like most Mediterranean countries, Spain has quite a late eating food culture. So you don't have to head home early.
But the best time to tour Seville bars and restaurants would be late afternoon to early evening. Since it's an event featuring rich foods and wines, you're not likely to find an early morning option.
Monday – Friday: 12 pm – 10 pm
Saturday – Sunday: 12 pm – late
Best Time to Go
The warmer months are the best time to join a tapas and wine tour. The days are longer, and everyone is out and about, enjoying the warm evenings. If you're wanting to make the most of your Southern Spain itinerary, the best time of year would be spring or autumn.

Best Tapas in Seville
Don't let the idea of finger foods confuse you, Seville tapas are as far removed from little fancy foods with unpronounceable names as you can get. Traditional Spanish tapas are generous, flamboyant, and flavourful.
Depending on the tour you choose, you'll either try gourmet tapas, traditional favourites, or avant-garde creations. Or perhaps all of the above. And since you'll be touring some of the best Seville restaurants, you're sure to taste the very best tapas in Seville.
Tip: Whichever of the Spanish tapas it is that you enjoy, they're sure to be hard to forget. If you come across something that you feel you can't live without, ask your guide about it, and jot down the name. You can always try to recreate the recipe at home!
Best Spanish Tapas and Wine Tours
These options all include delicious wine and tapa pairings. Beyond that, they are quite diverse. So you can compare and find the one that suits you best.
3-Hour Tapas, Sherry and Wine Tour
Stroll through the city while the sun sets, and enjoy tapas and wine for dinner. It's particularly lovely in the warmer months, when Seville comes alive during the evening hours.
And since wine goes so well with the winding down of a day, this tour can be ideal. You can make new friends at the bars you visit, and maybe extend the night, once you've had a few.
On this tour, you'll see the sights of Seville, while trying its very best offerings. You'll visit the city's oldest bar, gourmet wine shops, and popular local bars. It's a great way to fit in all of the different options and make the most of your evening.
And with all of these delicious wines and sherries, come delightful tapas, and a sumptuous dessert to wrap up the evening. All in all, you can't go wrong with an evening tapas crawl.
What we liked: Great if you particularly like eating and drinking in the evening.
---
INCLUDES:
Sherry tasting
3 glasses of wine
3 plates of tapas
EXCLUDES:
Extra food and drinks
Gratuity
This tour is ideal for those who want to know how to expertly pair their wines for the rest of the vacation. The restaurants and bars are family-run and filled with locals, so it's a great way to really experience Spanish food culture. This tour is not suitable for vegans.
Check Price & Book
---
Walking Day Tour of Wine and Tapas in Seville
Learn about the history of Seville on this walking tour through the Triana neighbourhood. With an experienced guide leading the way, you can learn about the customs, traditions and history of the city and Spain.
You can let your guide know the kinds of food that you're interested in, and they'll do the ordering for you. That way you can eat what you like, but try the very best options of each bodega, eatery and bar that you visit.
What we liked: Great for if you want to sight-see around the city.
---
INCLUDES:
4 drinks
4 selections of tapas
Visit to Triana local market
EXCLUDES:
Cocktails
Hotel pick-up and drop off
More than 2 glasses of wine
Check Price & Book
---
This tour is ideal for those who are wanting to make the most of their stay and learn about Seville, while enjoying its food and wine. It might get a little hot in summer, which is one of the reasons that siestas are so popular in Spain. But you could always opt for the 8 pm option and make it an evening adventure.
PROS
You'll explore local bars and restaurants
Food and drinks are included
Experienced guides that are knowledgeable and friendly
CONS
There's a limited amount of food and drinks, though normally generous portions
Pick-up and drop-offs are not included
Specification:
Seville Tapas and Wine Tour – Compare the Best Tours for 2023
| | |
| --- | --- |
| Accessible | Not wheelchair accessible |
| Duration | 3-4 hours |
| Includes | Tapas and 2-4 glasses of wine, Guided tour in English/Spanish. |
| Excludes | Extra dishes and drinks |
| Meals & Drinks | Included |
| Pickup | Not included |
| Suitable For | Food lovers and wine enthusiasts. Not suitable for under 18's, pregnant women or those with mobility issues. |
11 reviews for
Seville Tapas and Wine Tour – Compare the Best Tours for 2023
Seville Tapas and Wine Tour – Compare the Best Tours for 2023