7 Best Seville River Cruise Tour Boat Trips (Yacht & River) 2023
Last updated on September 13, 2023 12:02 pm
Add to wishlist
Added to wishlist
Removed from wishlist
1
Add to compare
Seville is well known for its rich history, grandiose, old century architecture as well as the beautiful Guadalquivir river. As the capital of Andalusia, Seville is located southwest of the Iberian Peninsula and is a wonderfully scenic location. It's perfect for couples and honeymooners with enough excitement to be well-suited for solo travelers as well.
There are tons of fantastic facts about Seville that make this unique and exciting place all that more interesting. Keep reading to discover great river cruises in Seville, Spain.
Highlights:
Cruise along the Guadalquivir River
Live commentary from English-speaking guide
Music on board the boat
Know before you book::
Bring a light jacket
Not wheelchair accessible
Wear comfortable shoes
As with the rest of Spain, there are some fantastic tapas tours around Seville. There are lots to do within the city (and province) of Seville. There are some amazing sights to see, you can visit the aquarium, Four Arts Center, or Seville Cathedral as well as enjoy the famous Guadalquivir River in Seville, Spain.
Discover some of the best spots in Seville from aboard a boat, you can enjoy the Guadalquivir during sunsets, stroll through the plaza before lunch, or visit the Alcazar.
Seville Boat Trip Prices
Although there are a ton of free things to do in Seville, the boat tours are reasonably priced and filled with lots of valuable sights and activities. Basic tours start from around 12 Euros and can reach anywhere north of 80 Euros (15 USD to 100 USD). For more details, compare prices across the ticket providers below: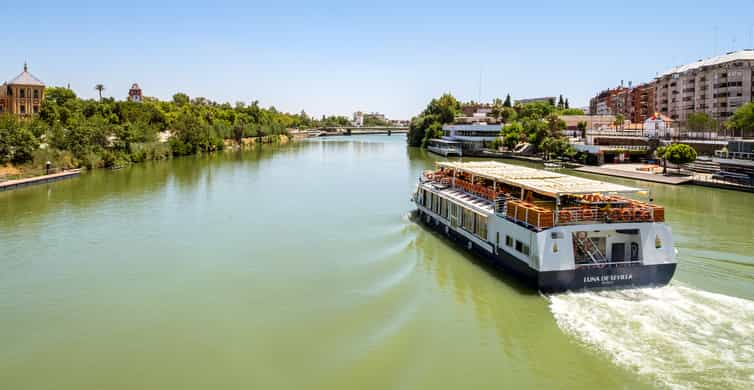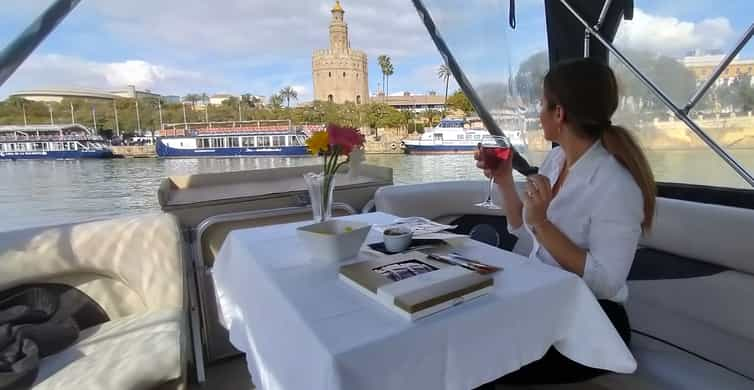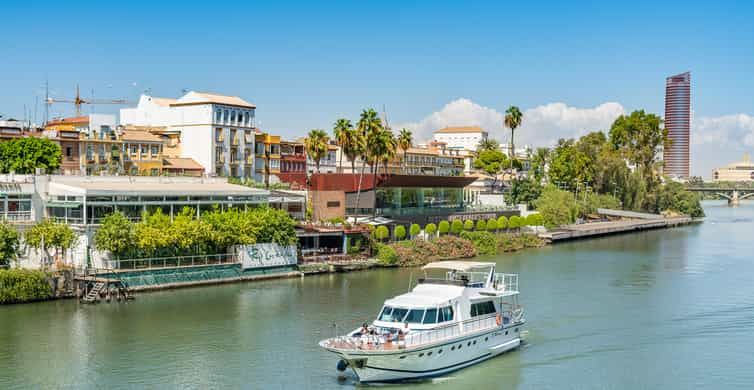 Seville Boat Times
Many tour operators organize their tours at varying times to accommodate a large number of people interested in the tour, many tours are also available in different languages like English, French, and Spanish, etc.
Many tours will begin at the hour, although you'll have to confirm with your ticket as there are also various meeting points. You'll have to ensure a timely arrival so as not to get left behind.
Best Time to Go
Seville, with all of its bell towers and sculptures, makes for a wonderful trip at any time of the year. There's so much to do regardless of the season. Although, if you're considering a boat cruise or a paddle-surfing experience, you may want to pay closer attention.
The weather in Seville is known to get quite hot. During summer, it's considered as one of the hottest cities in all of Europe. For this reason, you may want to visit from spring through to early summer or from autumn and into winter.
Guadalquivir River Cruises Seville
While the river in Seville is a great way to get out of the hotel and enjoy the open night sky, there are lots of things to do in Seville. Some of the best cathedral tours in Spain can be found in this quaint city.
If you're wondering how to get around Seville besides the regular bus and car route, you may want to consider a cruise down the river. Other than cruises, you could also explore some of their fun activities like kayaking, canoeing, and paddle-surfing.
The Guadalquivir River has so much on offer, keep reading for a comparison of some of these tours below.

Seville Guadalquivir Cruise
Along the Guadalquivir river, Seville, your undivided attention will peruse the decorated sidewalks of Triana and other pavilions. This tour is perfect for families, solo travelers, or couples.
With this cruise, you'll have one hour to explore the views of many Seville monuments. Here you'll see the Plaza de Espana and a range of historical bridges. Ensure to reserve a table at your favorite restaurant for after as this tour doesn't cater to any meals and drinks.
What we liked: Great for a quick tour on a busy day.
---
INCLUDES:
Panoramic roof and great vantage point
Lots to see
Only small groups allowed
EXCLUDES:
No meals and drinks provided
No hotel pick up
Can get quite cold
Check Price & Book
---

Seville Guadalquivir Yacht Tour
With this tour, you're greeted with a drink and some light snacks. While the food is not the main attraction, it certainly does make things a little bit more interesting. They have a varied gourmet menu that is tailored to the seasons and contains some of the Spanish favorites like cava, panna cotta, paella, and Iberian ham.
Either way, don't get distracted by all of the great food and forget to see the astounding views. The tour operators give you the option of choosing the duration of your trip; you can decide between one to two hours. Thus allowing you to see more of Seville like the Torre del Oro and Puente de Triana.
What we liked: Lots of options to tailor your experience.
---
INCLUDES:
Live commentary
Music & bar service
Virtual tour with 3D glasses
EXCLUDES:
Hotel pickup and drop off
Blankets
Check Price & Book
---

Exclusive Seville Boat Tour w/ Tapas
Not many Seville boats are exclusive and dedicated specifically to you. With this tour, you and a group of your closest friends can enjoy the serenity of the river with just you and the crew. This one-hour trip takes you around to the area of La Cartuja Island.
Along the trip, you'll learn a ton of history and see many of the best sights, like Isabel Bridge and Palacio de San Telmo. This tour is specifically great for intimate groups and romantic adventures.
What we liked: Exclusive use of the boat.
---
INCLUDES:
Blankets for the trip
A drink per person & tapas meal
Music & commentary
EXCLUDES:
Hotel pick up and drop off
Any extra drinks
Check Price & Book
---
Alcazar & Cathedral Sightseeing w/ Boat Tour
With this tour, you'll have the opportunity to experience a full sightseeing adventure. You can view many of Seville's greatest attractions and experience an hour cruising the river.
If you're a determined traveler that loves to do it all, this tour is for you. It is a great option for small groups of inquisitive adventurers.
On this tour, you'll come to learn all about Seville, from the Former Jewish Quarter( Santa Cruz) to the Plaza de Los Venerables. Your experienced and informative guide will show you around via minibus and clue you up as you go along.
There are options to upgrade your package to include the Seville Cathedral and the Alcazar de Seville if you're interested. Although, most importantly, you're able to end it off with a lovely tour down the Guadalquivir River.
What we liked: An opportunity to see all of Seville.
---
INCLUDES:
Skip-the-line tickets
hotel pick up and drop off
Local guide
EXCLUDES:
No meals and drinks are included
Check Price & Book
---
There are a ton of beautiful activities in Seville, Spain. However, a day - or even a few hours - coasting along the river is a must-do that you won't regret. Get your tapas, your favorite friends, and enjoy the journey.
PROS
Lots of tour times to choose from
Sightseeing from a new perspective
Live guide available on most tours
CONS
Not all tours have meal options
Not handicap friendly
Doesn't include hotel pick up and drop off
Specification:
7 Best Seville River Cruise Tour Boat Trips (Yacht & River) 2023
| | |
| --- | --- |
| Accessible | No |
| Duration | 1 – 2 hours |
| Includes | Glass of Cava, Audio system to improve the tour experience, Bilingual Guide, Tapas (if specified) |
| Excludes | Pick up and drop off |
| Suitable For | Adults and children (children require adult supervision), Couples |
20 reviews for
7 Best Seville River Cruise Tour Boat Trips (Yacht & River) 2023
7 Best Seville River Cruise Tour Boat Trips (Yacht & River) 2023