Quad Biking Mallorca – BEST Island Tours & Trails 2023
Last updated on November 23, 2023 2:24 pm
Add to wishlist
Added to wishlist
Removed from wishlist
0
Add to compare
Discover the natural wonders of magical Mallorca from your quad bike. Take a cruize through the countryside, take in some spectacular views alongside mountain ridges and enjoy the scenic bays. Take a punch of freedom, action, fun, and nature, with a dash of sea breeze. The perfect ingredients to a fantastic fun-filled day around the Balearic islands.
Hop on an adventure tour to experience what Mallorca has to offer you. These are the top quad biking tours that can be fun for the whole family.
Highlights:
Discover the gorgeous terrains of Mallorca on a quad bike ride
Visit some of Mallorca's most scenic spots
Explore off-road rugged landscapes that can only be accessed with a quad
Know before you book::
Must be over 18 years and in possession of a valid driver's license
All quads can be occupied by one driver and non-driving passanger
Take water, snacks, comfortable clothes and sunscreen
Mallorca, also known as Majorca, is the largest most beautiful island in the Balearic islands, forming part of Spain. Its surrounded by picturesque jewel-colored waters in the Mediterranean. This magical place is fantastic for those looking for a fun vacation exploring this beautiful island and its surroundings on a unique quad bike excursion.
You will be guided by a local expert on these trails, who will accompany you on your expedition. Unearth the island's west coast to witness the stunning views of the Andratx bay. Cruize along off beaten paths in the countryside or stop for a dip in the crystal clear waters at paradise cove of Cala Blava. This is a truly remarkable experience.
Quad Biking Mallorca Tour Prices 2021
The cost of the tours starts from €53 ($58 USD) to €135 ($149 USD) depending on the different tours and what you will be doing – the length of your trip, the type of tour, etc.
Compare prices across the ticket providers below: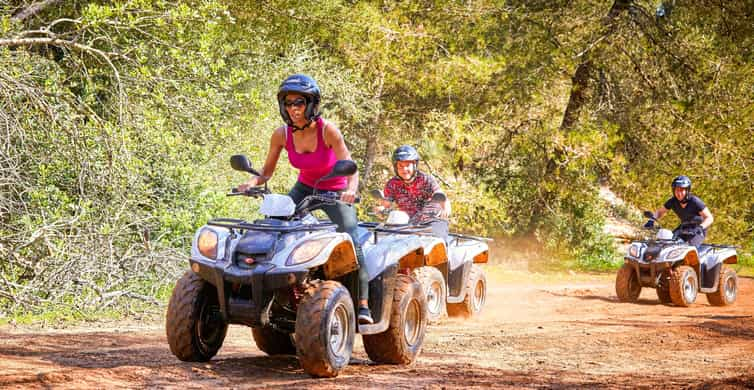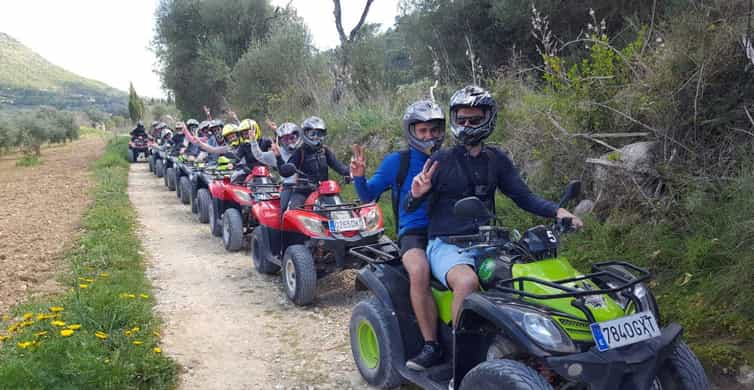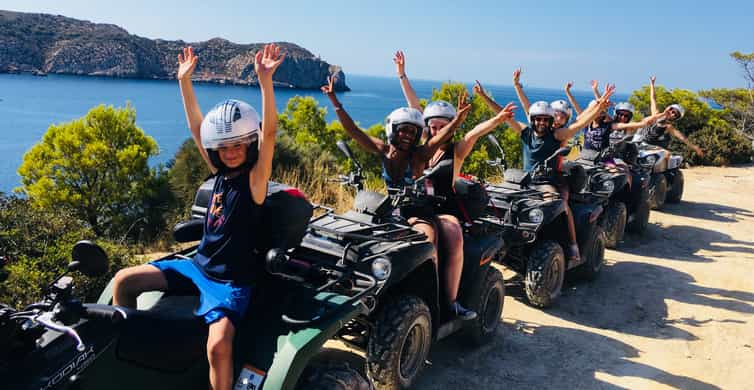 Mallorca Quad Biking Tours Times
Quad Biking Tours depart at various times throughout the day. The tour times depend on which quad biking trail you want to choose. The morning tours depart at 10:00 AM, while afternoon rides depart at around 3:00 PM.
Monday – Friday: 9:30am – 5pm
Saturday – Sunday: 9:30am – 7pm
Best Time to Go
The best time to explore the Spanish islands is during the summer months of July, August, and September. It's the hottest time of year to visit, with the average temperature reaching 30°C – Spring and Autumn time in Mallorca offer pleasant conditions, too.
Choosing between different tours can be tricky. In the mornings, you get the first glimpse of the fresh, crisp landscape in a diversity of natural terrains. Whereas in the afternoons to evenings you may enjoy countryside paths, and travel across the mountain paths.
Quad Bike Mallorca Hire
There are a variety of quad bike hiring options in and around the Balearic islands. When choosing what kind of tour you want to hop aboard on, it's best to find one that provides a number of activities and attractions you can see along the way.
Off-Road Quad Bike Tour
Explore the rugged landscape around Palma on a fun and exciting formula 4×4 tour. Experience different stretches of terrain – Cruize over sand dunes and rocky paths. Stopover for a swim or snorkel in the clear blue waters of a secluded bay. Those brave enough can opt-in for cliff jumping.
Your fun-filled excursion is not over until you are sipping on a cool drink along the promenade. A splendid way to spend a magical day on your vacation!
Psst… Don't forget to take plenty of photos for long-lasting memories.
What we liked: The off-road tour offers an unforgettable 3.5 hours of action packed adventures. An amazing day well spent snorkeling, swimming, cliff jumping and of course quad biking.
---
INCLUDES:
Petrol
Helmet
Liability Insurance
Enjoy a 3 and a half hour quad bike adventure tour. Travel along secret paths on your atv hire and enjoy a spectacular day exploring the magical wonders Palma has to offer. A great way to see the island while catching some fresh air.
Tip: If you happen to be visiting Mexico as well – Cabo San Lucas to be specific – and want to experience an ATV tour that is similar to this one, then contact Pure Cabo. They offer some top-notch adventures.
Check Price & Book
---
West Mallorca Quad Bike Tour
The West Mallorca Quad Bike excursion is certainly one not to be missed. Discover the incredible beauty Mallorca has to offer from the back of a bike. This ride is perfect for any type of rider, whether you're an expert, an adrenalin junkie or a novice.
A local guide will accompany you on the excursion. You'll explore some of the island's best-kept secrets. Along the path, you will head to the west coast of the island where you will get to witness the strikingly beautiful views of the bay of Andratx.
Also on your path, you will get to take a dip into the turquoise waters in a cove near Dragonera.
What we liked: This excursion is ideal for anyone interested in seeing Mallorca from another point of view. You'll find some of the most exquisite views – from mountainsides to overlooking bays.
---
INCLUDES:
3.5 hour quad bike excursion
Fuel
Hotel pick-up and drop off
Check Price & Book
---
4-Hour Adventure Tour To Dragonera Island
Enjoy a 4-hour adventure packed tour through gorgeous landscapes of the Balearic Island. Start your day in Santa Ponsa where you will meet your guides and get a short orientation session.
Once you set off on your exciting excursion you will pass traditional homes, over the Tramuntana Mountains and see some strikingly beautiful views of the Dragonera Island.
Explore the luxury port of Purto Andratx with its colorful Mallorcan diversity of cafes, bars, and boats. You will explore the rocky coastline along the island's bays and take a dip into the stunning turquoise waters.
What we liked: This is a fantastic tour for anyone looking to explore the different terrains this gorgous Spanish island has to offer.
---
INCLUDES:
Fully automatic quad bike
Helmet and equipment
All taxes and fees
EXCLUDES:
Meals
Beverages
Gratuities
Take a 4-hour tour to explore the magical island. Get your adrenalin pumping off-road riding along the stony Tramuntana Mountain paths. Visit some exquisite beaches and bays while you soak in the Mallorcan lifestyle and drive through charming traditional towns.
Check Price & Book
---
Enjoy an adventure filled day on one of Spains most exotic islands. Feel the crisp seabreeze as you ride along the coastline, or take a cliff dive into the crystal pools at one of your stops. Enjoy the range of fauna and flora Mallorca has to offer while cruizing around on your quad hire in Majorca. Rent a quad bike with a guided expert and uncover the gorgeous terrains, coves, and bays Mallorca has to offer.
PROS
Equipment included
Local Guide
Liability Insurance Included
CONS
Not wheelchair accessible
Meals and Beverages are not included
May be challenging terrain
Specification:
Quad Biking Mallorca – BEST Island Tours & Trails 2023
| | |
| --- | --- |
| Accessible | Not wheelchair accessible |
| Duration | 3 – 3.5 hours |
| Excludes | Gratuities |
| Includes | Equipment: snorkeling, helmet, petrol |
| Meals & Drinks | No meals provided |
| Pickup | Pick-up and drop-off included |
| Suitable For | Children over 18 years, Groups, Healthy persons, and couples |
6 reviews for
Quad Biking Mallorca – BEST Island Tours & Trails 2023
Quad Biking Mallorca – BEST Island Tours & Trails 2023